Do you find yourself holding back your smile, unwilling to reveal the space in your mouth created by a missing tooth? Then you are probably a good candidate for a dental bridge, a prosthetic device that quite literally "bridges" the gap left from missing teeth. As an expert in modern cosmetic dentistry, Dr. Dave S. Carpenter knows just how to restore a natural-looking smile.
Benefits of Dental Bridges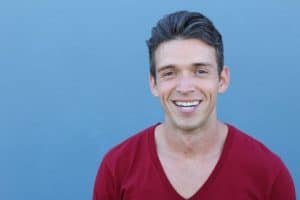 The aesthetic value of a dental bridge is immediately evident, but it is also important to understand the crucial functional role that bridges play. Missing teeth make it more difficult to speak; after a little bit of practice, you should be able to pronounce words better with a bridge.
The same goes for chewing. You will you have a much easier time eating with a full set of teeth, as a bridge will help correct the motion of your bite. (People often adjust their bites to compensate for missing teeth.)
Furthermore, teeth are known to shift out of place when there is a gap beside them. By filling in the space, you keep the remaining teeth in your mouth in better alignment. Tooth loss is also known to contribute to facial sagging, so when you replace a tooth, you are helping to maintain a more attractive facial structure.
Types of Dental Bridges
Dr. Carpenter offers four types of bridges at his practice, and he will advise you on which type is best suited to your mouth.
Fixed Bridge
The most traditional variety, this bridge places crowns on the teeth on either side of the gap to hold the new prosthetic teeth in place.
Cantilever Bridge
This method is similar to a fixed bridge, yet it only connects to one side of the gap. In some cases a patient simply does not have any other teeth to one side of his or her tooth gap to attach to. In other cases, it may not look nice from an aesthetic standpoint to attach a crown on one particular side.
Maryland-Bonded Bridge
Rather than using crowns, this bridge relies on metal "wings" that permanently attach to the backside of teeth on either side of the gap. This method is generally recommended for missing front teeth, since they are the most visible teeth and therefore are harder to put crowns on without it being obvious.
Implant-Supported Bridge
It is not necessary to have adjacent teeth to install a bridge. In situations where a patient does not have strong enough teeth to hold a bridge, or does not have any other teeth in the row altogether, Dr. Carpenter can attach a bridge directly to the jawbone. People who might otherwise require dentures may want to invest in implant-supported bridges.
Dental Bridge Procedure Details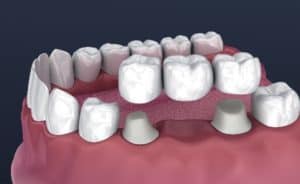 Dr. Carpenter will install your dental bridge over the course of two appointments. During your initial visit, Dr. Carpenter will take a mold to create a bridge that fits perfectly in your mouth for an even bite. Once the bridge has been created from this mold, you will return to the office and have your bridge permanently attached to your mouth, usually with the help of a dental crown or two.
Discuss Dental Bridge Options with Dr. Carpenter
Dr. Carpenter is available to have an in-depth conversation with Texas patients about dental bridges. For a consultation, call his office at (409) 898-4300.