The purpose of restorative dentistry is to resolve dental problems in order to restore full functionality to the mouth. Dave S. Carpenter, DDS, takes his role as a restorative dentist seriously and prides himself on being able to perform the procedures necessary to restore health and vitality your mouth. Among the restorative dentistry treatments Dr. Carpenter provides are:
Dental Bridges
A dental bridge is a prosthetic implement that replaces a missing tooth or row of missing teeth. Bridges allow you to bite normally again as well as prevent your remaining teeth from shifting out of place. There are four main types of dental bridges; Dr. Carpenter will recommend the one most suitable for your mouth.
Root Canal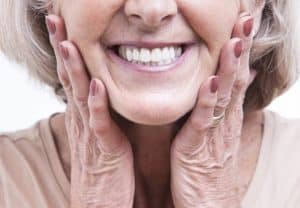 An infected tooth that is at serious risk for falling out can often be saved with a root canal. The procedure involves washing out and removing the infected pulp from the center of the tooth and then filling it so the infection cannot return. Not only will a root canal spare you a lot of future pain, it will also provide you with the best chance to keep your natural tooth. A crown may be necessary to strengthen your tooth following a root canal.
Dentures
When patients lose or are likely to lose many of their natural teeth, dentures are often a suitable replacement. These removable prosthetics are custom-built for your mouth. They resemble and function just like actual teeth. And whereas older models of dentures were clunky and easy to spot, contemporary dentures fit more snuggly and look more realistic. As a result, contemporary dentures help patients avoid potentially embarrassing situations.
Dental Implants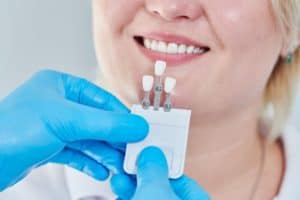 A single missing tooth can throw off a beautiful smile, not to mention make it harder to chew and speak. Dr. Carpenter offers dental implants to replace any unwanted gaps. You can select a prosthetic tooth to match the color and size of your existing teeth so that it fits in seamlessly. Unlike other tooth prosthetics that attach to your other teeth, dental implants screw directly into your jawbone for permanent security.
Full Mouth Restoration
Sometimes a patient's entire mouth will warrant reconstruction, as a result of either an accident or years of poor oral hygiene. In such cases, Dr. Carpenter will devise a plan for the entire mouth, using one or more approaches to restore an attractive and complete smile. He can combine multiple techniques to best address your unique dental needs, including crowns, bridges, veneers, implants and dentures.
Discuss Your Restorative Dentistry Needs with an Expert
Some patients are already aware of the dental problems in their mouths and have put off treatment for one reason or another, while others need a trusted dentist to look in their mouths and explain the necessary solutions. Regardless of which camp you are in, you should schedule an appointment with Dr. Carpenter to address these issues — which will only get worse if left untreated — for a renewed, healthy mouth. To arrange a time, call Dr. Carpenter's Beaumont, TX office at (409) 898-4300.