If you have reasonably healthy teeth but are unhappy with the way they look, dental veneers may be the most sensible cosmetic solution for you. Veneers are coverings that attach to the front of your teeth to provide a cleaner, more attractive smile.
Veneers can be added to the upper and lower teeth. While some patients choose veneers to cover up flaws in one or two teeth, others will need an entire row to achieve a sparkling, uniform appearance across the entire mouth. Whatever goals you may have for veneers, renowned aesthetic dentist Dr. Dave S. Carpenter can help you to achieve your desired look.
Dental Veneer Benefits
Many patients seek veneers so they can cover up a cracked, chipped or crooked tooth. Others want to conceal the yellowed or stained color of their natural teeth. Some patients have sizable gaps between their teeth and want to make the spaces look smaller. For those who are concerned that their teeth look too short, veneers can even change the length of your teeth. No matter what your aesthetic goal is, it important that you should choose an expert like Dr. Carpenter to achieve this look while maintaining a natural bite.
Patients are most likely to ask for veneers when other interventions like braces or teeth whitening have not provided the full effect they were looking for.
Choosing Veneer Material and Color
While dental veneers can be made with several different materials, the most frequently used are porcelain and resin composite, each of which has its own pros and cons. Dr. Carpenter will walk you through the full details during a consultation, but in brief, resin-based veneers are significantly less expensive and last about five years. Meanwhile, porcelain veneers last closer to twenty years and are less likely to break or stain.
Since veneers come in all shades, you will also have the opportunity to give Dr. Carpenter your input regarding color. If you are having a small number of veneers placed to cover aesthetic flaws, it generally makes the most sense to match them to your existing teeth color for a natural appearance. Patients who need an entire row of veneers will often choose to go whiter than their natural teeth.
Dental Veneer Procedure Details
Dr. Carpenter provides veneers over the course of two appointments. In the first visit, he will remove some enamel from the teeth on which veneers are to be placed, and then take an impression of your mouth so that an off-site laboratory can put together veneers custom-made for your mouth. You will walk out of the office with temporary veneers until your permanent set is ready.
When you return, Dr. Carpenter will have you verify that the color, size and shape of your new veneers are to your liking. Following your approval, he will use dental cement to permanently bond the new veneers to the front of your teeth, repeatedly checking that it fits right and allows for a natural biting motion. The amount of time this procedure takes varies depending on how many veneers are being installed.
Caring for Veneers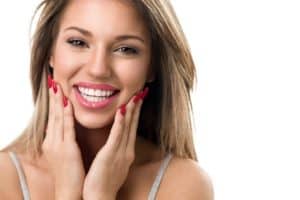 Even though veneers cover part of your teeth, your natural teeth can still get cavities, which is why it remains important to maintain all of the normal oral hygiene habits, especially brushing and flossing every day.
Although veneers stain less easily than normal teeth, to keep them looking their whitest (you have paid for that, after all) you may want to be mindful of drinking beverages that are known to stain, like coffee, soda, wine and berry juices. Furthermore, chewing on hard objects like pens or fingernails may cause your veneers to chip.
Schedule a Consultation
As one of Texas's most respected cosmetic dentists, Dr. Carpenter can be counted on to give you the perfect smile you have always dreamed of with the help of porcelain or resin composite veneers. To discuss the procedure, cost and timeline for veneers, call his Beaumont office at (409) 898-4300 for an appointment.