Dentures are removable prosthetics designed to replace a row of missing teeth. At his Beaumont practice, Dr. Dave S. Carpenter makes custom dentures for each patient to properly fit his or her mouth. While some patients have negative feelings about dentures based on previous models they saw their grandparents wear, the good news is that contemporary dentures fit more snuggly and look more like authentic teeth than they did in the past.
Benefits of Dentures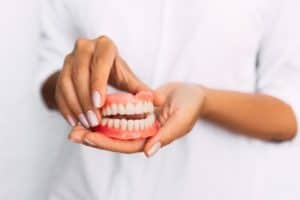 Because dentures look just like a healthy set of teeth in your mouth, you will be able to smile without reservation. They also help to keep the rest of your face more attractive by preserving your facial structure and stopping your cheeks from sinking inward.
Beyond that, most people find it difficult to eat and speak with missing teeth. Dentures make both of these everyday activities easier, though there may be an adjustment period during which you relearn how to do these things with your new set of teeth.
Dentures Placement Process
Dr. Carpenter will examine and X-ray your mouth to determine whether dentures are appropriate, and then make a plan to extract any infected teeth that would need to be removed ahead of receiving dentures. Next, he will make a mold of your teeth to be sent to a lab to create the resin dentures. You will have the opportunity to provide input on the desired size and shade of these teeth.
Once the dentures are created, Dr. Carpenter carefully checks that they fit correctly in your mouth with any existing teeth so that you may chew without any difficulty. He will also confirm that the dentures do not make a clicking sound when you move your teeth.
Caring for Dentures
Dentures should be brushed and rinsed on a daily basis, though you should skip the toothpaste. Toothpaste is too abrasive for dentures, potentially wearing away at the resin, creating divots where food and plaque could collect. Instead, clean dentures with denture cleaner or a mild soap to keep them fresh.
Whenever your dentures are not in your mouth, make sure you soak them in room temperature or cold (never hot) water so that they maintain the proper shape. Dr. Carpenter will discuss further recommendations specific to the kind of dentures you receive.
Denture Fit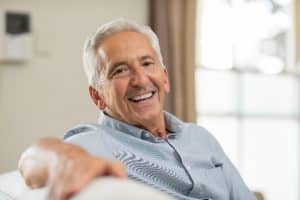 Denture adhesive, also known as denture cream, is a product designed to help keep your dentures in place in your mouth. Dr. Carpenter ensures that your dentures fit properly so that this product is not necessary.
Over time, it is normal for your mouth or dentures to change shape slightly, making the fit worse. At that point, the best course of action is to return to Dr. Carpenter for adjustments to keep your dentures feeling great.
Alternatives to Dentures
In addition to dentures, Dr. Carpenter offers bridges and dental implants as other potential solutions for missing teeth. Generally speaking, dentures are the most affordable option, though you may consider the quality and ease of bridges and implants to be worth the financial upgrade. You may discuss these options and prices with Dr. Carpenter during a consultation.
Visit Dr. Carpenter for Your Dentures
Throughout his career, Dr. Carpenter has fit many patients with dentures that are so natural-looking, passersby have no idea that they are not real teeth. Dr. Carpenter's experience and skill allow him to provide you with a beautiful new set of teeth. Call (409) 898-4300 for an appointment.