Surprises are not usually something a patient looks forward to when visiting the dentist, especially after years away. But at the Beaumont dental practice of Dr. Dave S. Carpenter, patients are often pleasantly surprised by the incredible new aesthetic and restorative technologies that can bring back the smile they remember, or create the smile of their dreams.

Advanced dentists like Dr. Carpenter do not give up on teeth and gums; not when there are so many new ways to salvage a smile and restore your oral health. One of the simplest ways to do this is teeth whitening, or bleaching. Whitening techniques have improved dramatically over the years, offering brighter smiles with greater convenience.
Teeth Whitening Choices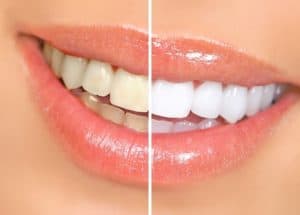 Part of that convenience is that patients have the freedom to choose between in-office bleaching and home whitening kits. During a 90-minute dental appointment, a state-of-the-art bleaching compound is applied to the teeth, then activated with a special curing lamp that locks in the whiter shade.

Home kits require a custom tray that will be created by Dr. Carpenter. Home whitening happens gradually over several weeks, and you will return to the office once or twice during the process.

Your home kit gel will contain a medical-strength concentration of hydrogen peroxide or carbamide peroxide. These concentrations are much higher than anything available over the counter in toothpastes, rinses or whitening strips. That's why it's important that your treatment be guided and monitored by a professional. When used improperly, the active ingredient in the gel can result in gum irritation and excessive tooth sensitivity. The latter can be managed by use of a special toothpaste during your treatment.

Teeth Whitening Consult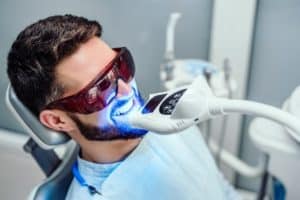 A key aspect of teeth whitening is the conversation you have with your dentist. Dr. Carpenter takes the time to understand your hopes and expectations, and creates a plan that brings your goals within reach. Not everyone wants a high-voltage Hollywood smile; sometimes a more modest change is desirable. In general, in-office whitening can make your teeth eight shades whiter.
Caring for Results and Risk Factors
The powerful whitening ingredients of in-office or home kit gels are sometimes no match for your own lifestyle choices, however. If you continue to smoke after whitening treatment, your teeth will eventually become stained once again. Red wine, coffee, tea and certain foods can also build surface stains over time, and acids and sugars will eat away the protective enamel.

Your results can also be affected by other factors. Teeth that are very thin are more difficult to whiten, as they naturally appear almost translucent near the edges. Patients who took antibiotics over an extended period as a child, or whose mother took antibiotics during pregnancy, may have permanent "intrinsic" stains that are deeply embedded in the teeth. Yellowish teeth are the easiest to whiten, while brown or gray hues present greater challenges.

To learn more about advanced teeth whitening technologies, or to schedule an appointment for whitening or a comprehensive exam in our Beaumont office, call (409) 898-4300 or use our convenient contact form today.