When a patient's mouth warrants more extensive intervention, Dr. Dave S. Carpenter of Beaumont, Texas may recommend full mouth restoration. Also referred to as full mouth reconstruction and full mouth rehabilitation, full mouth restoration uses any number of dental techniques to give your mouth a healthy, aesthetically-pleasing revamp.
Candidacy for Full Mouth Restoration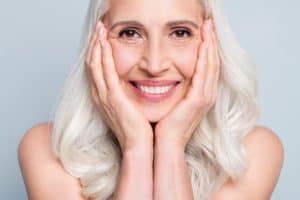 Patients who require full mouth restoration arrive at that point via a variety of paths. Some are the victims of a traumatic injury or accident that results in damage to or the loss of many teeth. Others have genetic disorders that cause them to have naturally unhealthy teeth. For others still, years of inadequate dental care have left their mouths in a bad state and periodontal disease or gingivitis may necessitate a whole new set of teeth.
Regardless of what brings you to this point, Dr. Carpenter approaches this procedure with compassion. You deserve to have an attractive, functioning set of teeth, and Dr. Carpenter is proud to use his expertise to provide that for you.
Benefits of Full Mouth Restoration
Full mouth restoration immediately restores an attractive, confidence-building smile to people who may not have been able to claim that trait for years.
On top of that, full mouth rehabilitation improves your overall oral health by correcting a multitude of existing problems all at once. Your replacement teeth will also help keep your jaw structure intact and play a role in improving your overall health.
From a cost perspective, it can also be financially sound in the long run to replace the totality of your teeth rather than trying to hold on to some remaining decaying teeth and having to further intervene at a later point.
Full Mouth Restoration Procedure Details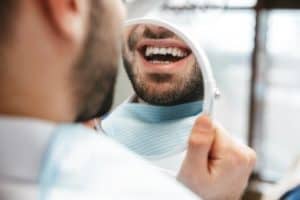 Without first looking at your mouth, it is impossible for Dr. Carpenter to outline what full mouth reconstruction will entail, because the procedures it includes are customized to your unique situation. While full mouth restoration can literally mean replacing every tooth, some healthy teeth may be left and even utilized to create the optimum solution.
Depending on your existing dental condition, Dr. Carpenter may recommend dentures, dental implants, bridges, crowns, veneers or other solutions in some combination. Your budget and input will matter greatly when determining precisely what treatments should be a part of your full mouth restoration.
Full mouth restoration generally plays out over several weeks, varying by the number and kinds of procedures involved in the treatment plan.
Choose Dr. Carpenter for Full Mouth Reconstruction
It is understandable that patients who potentially need full mouth rehabilitation come to this procedure with trepidation. For an undertaking of this magnitude, you should put your trust in one of Texas's finest dentists. Dr. Carpenter has the experience and glowing patient reviews necessary to overhaul the condition of your mouth, no matter its current state.
To devise a full plan, call Dr. Carpenter's office at (409) 898-4300 for a scheduled consultation.